Fort Collins and Estes Park Rafting on the Poudre River
Celebrating 42 Seasons, A Wanderlust Adventure has entertained over 200,000 Estes Park vacationers offering fantastic whitewater rafting trips on the Cache La Poudre River! Locals call it the Poudre River, pronounced "Poo-der". Our company provides super fun raft trips within an easy drive of Estes Park, Rocky Mountain National Park, Fort Collins, Boulder, Denver and Cheyenne.
Choose from two exciting trips on Colorado's only National "Wild and Scenic" River. If you are looking for real outdoor adventure in Northern Colorado we highly recommend whitewater rafting on the Poudre River. A great reason to choose the Poudre River is because of strict regulations that it receives from Roosevelt National Forest. Because of this the Poudre River has less outfitters operating on it which makes it less crowded than other rivers in Colorado. We also have limits on the amount of guests we can take which adds to the overall experience of your trip.
The scenery in the Poudre Canyon is exceptional and the almost continuous whitewater will provide excitement, thrills and lifelong memories that will be the highlight of your Colorado vacation! We offer mild to wild rafting trips that are great for families as well as adrenaline seekers. Our online reservations make it easy for you to book your trip. Whitewater rafting is a great team building activity and Wanderlust specializes in taking youth groups, church organizations and boy scouts. We can also set up a lunch for your large group before or after your rafting trip.
Whitewater rafting is one of the top things to do during your stay in Estes Park and Fort Collins. Wanderlust boasts the best reviews on TripAdvisor, Google and Yelp. We employ the most professional guides on the Poudre River. Our guides average nine summers of experience and are hand-picked for their fun personalities and customer service skills.
Wanderlust also uses newer equipment including state of the art NRS self-bailing rafts with foot cups, thwart handles and grab lines. We provide the free use of water proof paddle jackets to help keep our guests warm. Our company also has wetsuit and insulated wetshoe rentals that are washed after every trip.
Before or after your rafting trip you are going to be hungry. We have an onsite restaurant for your convenience. Famous for its home style cooking and scrumptious cinnamon rolls, Vern's Place has been a local favorite for over 65 years. Vern's offers breakfast, lunch and dinner so save your appetite. The restaurant even has an outdoor patio with beautiful views of the foothills. There is also plenty of room to park your RV or Charter Bus in our over-sized parking lot.
After your trip we encourage you to check out the HD photos and videos of your rafting adventure. We take more photos in more locations and offer the best deals available. Our 2,000 square foot retail store has the World's largest supply of Wanderlust Rafting T-Shirts and hats. We also have changing rooms and restrooms.
A Wanderlust Adventure is a "Licensed River Outfitter – Issued by Colorado Parks and Wildlife" and permitted through the National Forest Service. We have been offering whitewater rafting trips on the Poudre River for 42 years. Over the years we have seen the rafting industry go through many changes. We have adapted to these changes, raised our standards, improved our company and stayed in business by paying attention to what our guests want. We understand this may be your first raft trip. Whether you choose a mild or wild trip, we try to make it the highlight of your vacation!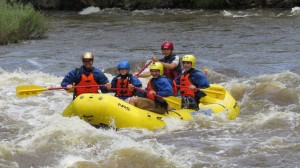 A Wanderlust Adventure will take you on a trip to remember rafting near Estes Park, CO. While we are not actually located in Estes Park, we are located closer to the Cache La Poudre River, which is the closest river to Estes Park, , and we understand that this can be a bit confusing for those adventurers looking for a rafting adventure, while in Estes Park on vacation. But, we are just a short 80-minute drive from Estes Park. […]
What People Are Saying…
Our family had an absolute "Blast" on our whitewater outing on the Poudre River with A Wanderlust Adventure! We will do it again on our next trip to Colorado! John
Texas
We had a great afternoon on the Poudre on July 20th. The weather was almost as spectacular as the river! Your guides were very professional and made the trip a lot of fun! Amanda
California